Roll over image to zoom in
Click to open expanded view
BendixKing AeroNav 900 GPS/FMS/NAV/COM
$17,215.00
AeroNav 900 is a full-featured GPS/FMS/NAV/COM with hybrid touch, wireless connectivity, and synthetic vision built right in.
The AeroNav 900 Series FMS/GPS/NAV/COM combines hybrid touch, WAAS/SBAS/GPS/VHF navigation and communication along with stunning 3D SVS synthetic vision technology to deliver a powerful and capable touchscreen, panel-mounted navigator.
BendixKing AeroNav 900 is compatible with a large number of popular ADS-B Out transponders and is an approved position source for ADS-B. There is no need for a separate GPS (or ADS-B with embedded GPS) or additional antenna on the aircraft.
The AeroNav series is designed as a slide in replacement for the GNS 430 and GNS 530 legacy navigators to minimize installation time and cost.
Factory new unit. Version 89000039-003 functionality includes:
 VHF Navigation
 VHF Communication
 Flight Management System (FMS/GPS)
 3D synthetic vision system (SVS)
 WiFi/Bluetooth®, Forward Looking Terrain Alerting (FLTA)
 Required Terrain Clearance Alerting (RTC)
 Jeppesen Charts - Unlock
 Bluetooth Keyboard
| | |
| --- | --- |
|   | Includes free, same-day 2-Day expedited shipping |
Fly with confidence with AeroNav GPS navigators
BendixKing AeroNav is a navigation and communication system designed for Part 23 and Part 25 aircraft owners and OEMs. The technologically-advanced AeroNav is a feature-rich, hybrid touchscreen/physical-knobs GPS/FMS/NAV/COM. It is possibly one of the most sophisticated
navigators ever built.
It gives you all the functions that you expect from a smartly designed product with an intuitive graphical user interface, making your entire flying experience easy and more enjoyable.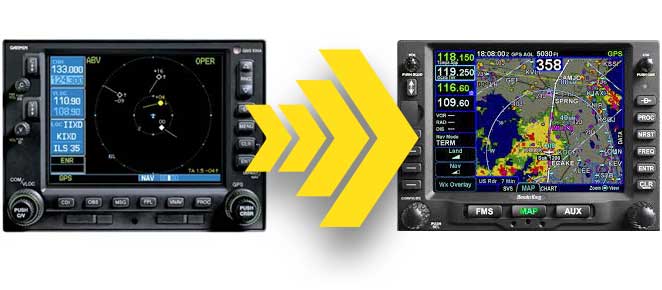 Slide-in Replacement
The AeroNav series is designed as a slide-in replacement for the GNS 430 and GNS 530 legacy navigators to minimize installation time and cost.
BendixKing AeroNav 900 Features
Touchscreen GPS/FMS/NAV/COM with Knobs and Buttons
5.7 inch full VGA 640 x 480 px display with 65,535 colors
Ultrabright sunlight readable with LED backlighting
Synthetic Vision with Integrated Traffic
FMS Preview allows the view of the available approaches graphically prior to selection
3D Terrain Awareness (SVS-TA) and Forward Looking Terrain Alerting (FLTA)
FLTA also provides visual CAS messaging & aural alerting
Textual and aural alerts are provided for terrain hazards
Standard traffic symbology to indicate threat level
LPV Vertical Guidance Coupled Approaches
Low Fuel Alerting with compatible Fuel Totalizer System
FMS automatically nominates, auto-tunes, identifies, and monitors the NAV radio frequencies
Fully-integrated, NextGen MEMS- Gyro ARS sensor senses pitch and roll
ADS-B Compliant Position Source
Built-in Bluetooth® and WiFi
Direct Slide-in Replacements of old GNS Systems
Wireless Interface to Third-Party Flight Planning and Mapping Applications
CMax™ Approach Charts & Airport Diagrams
Reduces data entry by as much as 75%
BendixKing AeroNav 900 – Easy To Use
The AeroNav product suite offers a wide range of features that make your flying easier and more enjoyable. The hybrid touchscreen/physical-knobs gives you hassle-free access to the information you need as it offers two ways of accessing information which dramatically reduces "headdown" time:
With Page & Tab, which enables you to access any screen in 1 or 2 clicks.
There are no nested menus and no home page to navigate through.
This means near-zero training time, no need for memorization of actions, and no need to re-learn at any time. To make data entry even simpler, a free separate Bluetooth QWERTY keyboard is included.
Competing products have an icon-based "Home" page that requires running each function as a separate "app," making it difficult to move between different screens without going back up to the Home menu and then finding your way back down through the pages of each specific function.
AeroNav's concise dropdown menus were designed to provide easy data entry of airways, waypoints, destinations, and procedures. AeroNav can automatically create user-defined waypoints to further ease flight-planning tasks.
Connected
BendixKing AeroNav 900 offers built-in Bluetooth and Wi-Fi, so your favorite flight apps will always be part of your toolkit. Below is a list of applications and required software levels needed to interact with the AeroNav.
ForeFlight 7.6 or later
Seattle Avionics FlyQ EFB 2.4
Flightplan.com FltPlan Go 4.4.6
AvPlan EFB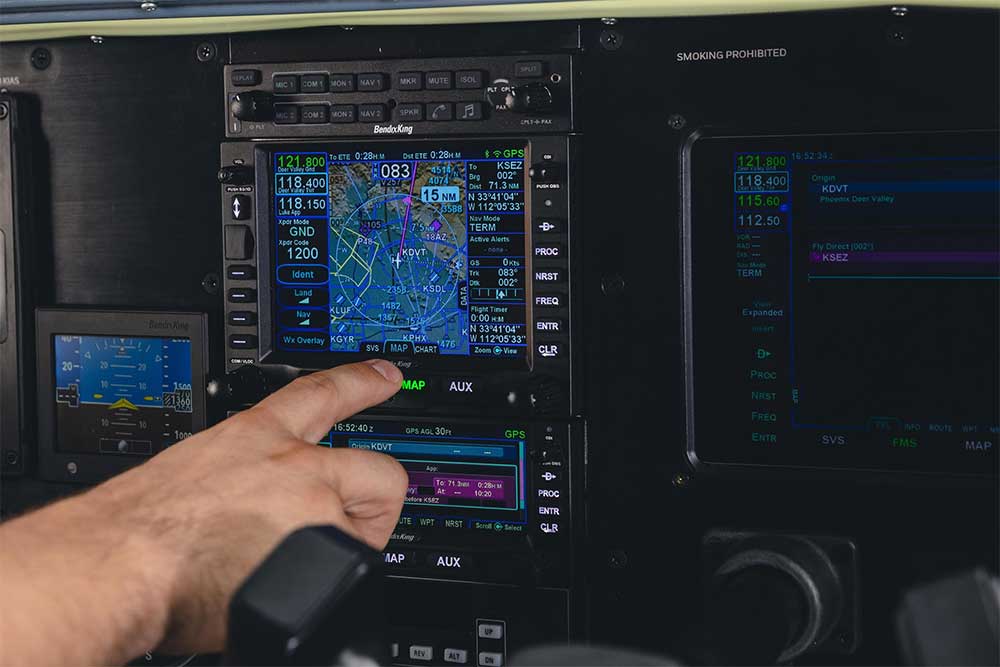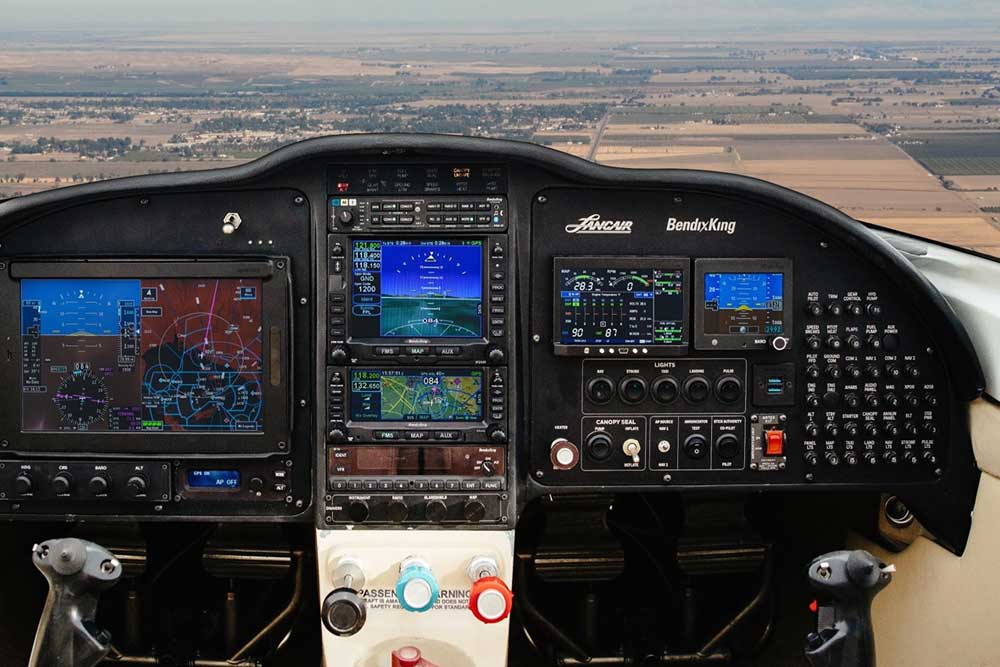 Additional information
Weight
8.79 lbs
Dimensions
6.3 × 11 × 4.6 in
Condition

Factory New Unit

Display

5.7"
Full VGA 640 x 480 px

Certifications

TSO-C34e – ILS Glide Slope Receiving Equipment Operating within the Radio Frequency Range of 328.6-335.4 Megahertz (MHz)
TSO-C36e – Airborne ILS Localizer Receiving Equipment Operating within the Radio Frequency Range of 108-112 Megahertz (MHz)
TSO-C40c – VOR Receiving Equipment Operating within the Radio Frequency Range of 108-117.95 Megahertz (MHz)
TSO-C44c – Fuel Flowmeters
TSO-C110a – Airborne Passive Thunderstorm Detection Equipment
TSO-C112e – Air Traffic Control Radar Beacon System/Mode Select (ATCRBS/Mode S) Airborne Equipment
TSO-C113a – Airborne Multipurpose Electronic Display
TSO-C118 – Traffic Alert and Collision Avoidance System (TCAS) Airborne Equipment, TCAS I
TSO-C128a – Devices that Prevent Blocked Channels Used in Two-Way Radio Communications Due to Unintentional Transmissions
TSO-C146d – Stand-Alone Airborne Navigation Equipment Using the Global Positioning System (GPS) Augmented by the Wide Area Augmentation System (WAAS).Airborne Supplemental Navigation Equipment Using the Global Positioning System (GPS) – Gamma 3
TSO-C147 – Traffic Advisory System (TAS) Airborne Equipment – Class A (Display Functions Only)
TSO-C157a – Aircraft Flight Information Services – Broadcast (FIS-B) Datalink Systems and Equipment
TSO-C165 – Electronic Map Display Equipment for Graphical Depiction of Aircraft Position
TSO-C169a – VHF Radio Communications Transceiver Equipment Operating Within The Radio Frequency Range 117.975 To 137.000 Megahertz – Class C, E, 3 and 5

Power Requirements

11 – 33VDC
4.4A/6.5A Xmit @ 14vdc
2.2A/4.0A Xmit @ 28vdc

VHF COM Power Output

10 Watts Nominal

Operating Temperature

-20ºC to 55ºC