Trig TA17 VHF COM Antenna
$262.00 (-8%)
Trig TA17 is a certified VHF Com antenna designed to provide the best performance. An ideal companion to Trig VHF radios.
The Trig TA17 VHF COM Antenna is a specialized 'angled' model, typically positioned on the lower surface of the aircraft fuselage. Its superior electrical characteristics and certified design make it an ideal choice for a diverse range of general aviation aircraft, including high-performance models with speeds up to 350mph and altitudes up to 50,000 feet. To optimize aerodynamic performance, the TA17 features a low-profile mounting base with a four-hole pattern.
The TA17 antenna ships with an installation kit, installation guide, and FAA 8130 certification.

Trig TA17 VHF COM Antenna Features
Bent "angled" design — ideal for mounting to the bottom of the aircraft
Lightweight and aerodynamic design
Suitable for most GA types, including high-performance aircraft (up to 350 mph / 50,000 feet)
Certified to FAA TSO C37d and C38d
Solid four-bolt mounting base
What's in the box
Trig TA17 VHF COM Antenna
Installation Kit
Installation Guide
FAA 8130 Certification / Approval
Trig TA17 Installation Diagram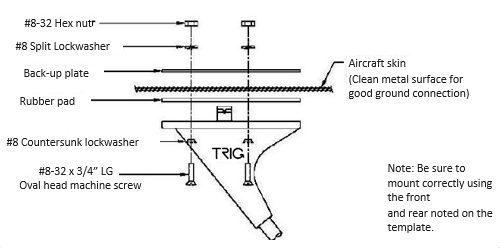 Additional information
| | |
| --- | --- |
| Weight | 0.498 lbs |
| Dimensions | 9 in |
| Frequency | 118 – 137 MHz |
| Impedance | 50 Ohms nominal |
| VSWR | 3.0:1 maximum |
| Polarization | Vertical |
| Pattern | Omni-Directional |
| Connector | BNC female |
| RF power | 30 Watts |