AvMap EKP V A2 ADAHRS Module
$965.00 (-18%)
The AvMap A2 ADAHRS module is packed with a solid-state 3-axis gyro, accelerometer, magnetic field sensor, and air data sensors. The added A2 ADAHRS module extends the functionality of the EKP V and turns it into AvMap EFIS (Electronic Flight Information System), a centralized display for both navigation and primary flight information.
It is suggested to install the A2 aligned with the aircraft longitudinal axis, as it simplifies the attitude calibration process. The A2 can be installed in any orientation, whereafter a proper calibration needs to be performed.</>
Solid-state gyros, accelerometers, magnetic field sensors, and air data sensors
Connects to aircraft's pitot-static system
Compatible with EKP V
Airspeed, altitude, attitude, side slip, and heading wind indicator
Clear HSI display
Altimeter, heading, and V-speed reference values
Get Airspeed, Altitude, Attitude, and Heading on the EKP V's 7" display
When connected to the A2 ADAHRS module, the EKP V turns into a full-featured Primary Flight Display providing:
Airspeed and Altitude from Pitot-static system
Attitude, side slip, and heading information
Integration of TAWS into the PFD with AGL Altitude indication
Wind indicator with wind components
Clear HSI display linked with EKP V flight planning function
Customizable data fields
PFD settings: Altimeter reference, Heading reference, Aircraft
Specific V-speed reference value.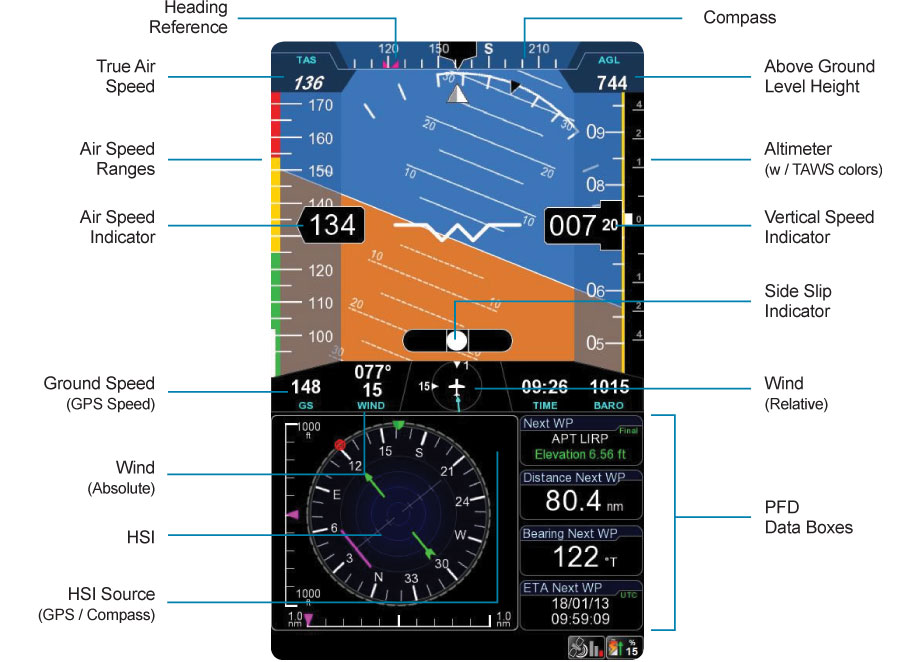 Additional information
| | |
| --- | --- |
| Weight | 0.11 lbs |
| Dimensions | 2.48 × 2.28 × 0.098 in |
| Temperature range | -40ºF to 185ºF |
| Acceleration range | (3 axis) +/- 8 g |
| Rotation range | +/- 1600 deg/s |
| Air data sensors | 0-250 kts; -3000 ft, + 44000 ft |
Documentation