AvMap EKP V Portable GPS, EFB & PFD – North America
$1,815.00 (-15%)
Designed for light-sport, ultralight & experimental aircraft, the AvMap EKP V redefines the role of GPS inside the cockpit. The EKP V can be both a cockpit-installed instrument and a portable device. The bright 7-inch LCD is multifunctional and capable of displaying several data sources useful for flight.
When connected to the A2 ADAHRS module through the docking station, the EKP V becomes a full-featured Primary Flight Display. This compact module is packed with a solid-state 3-axis gyro, accelerometer, magnetic field sensor, and air data sensor. The added A2 ADAHRS module turns the EKP V into a fast and reliable EFIS.
AvMap EKP V Portable GPS is a scalable system, fully customizable with compatibility with multiple 3rd party accessories.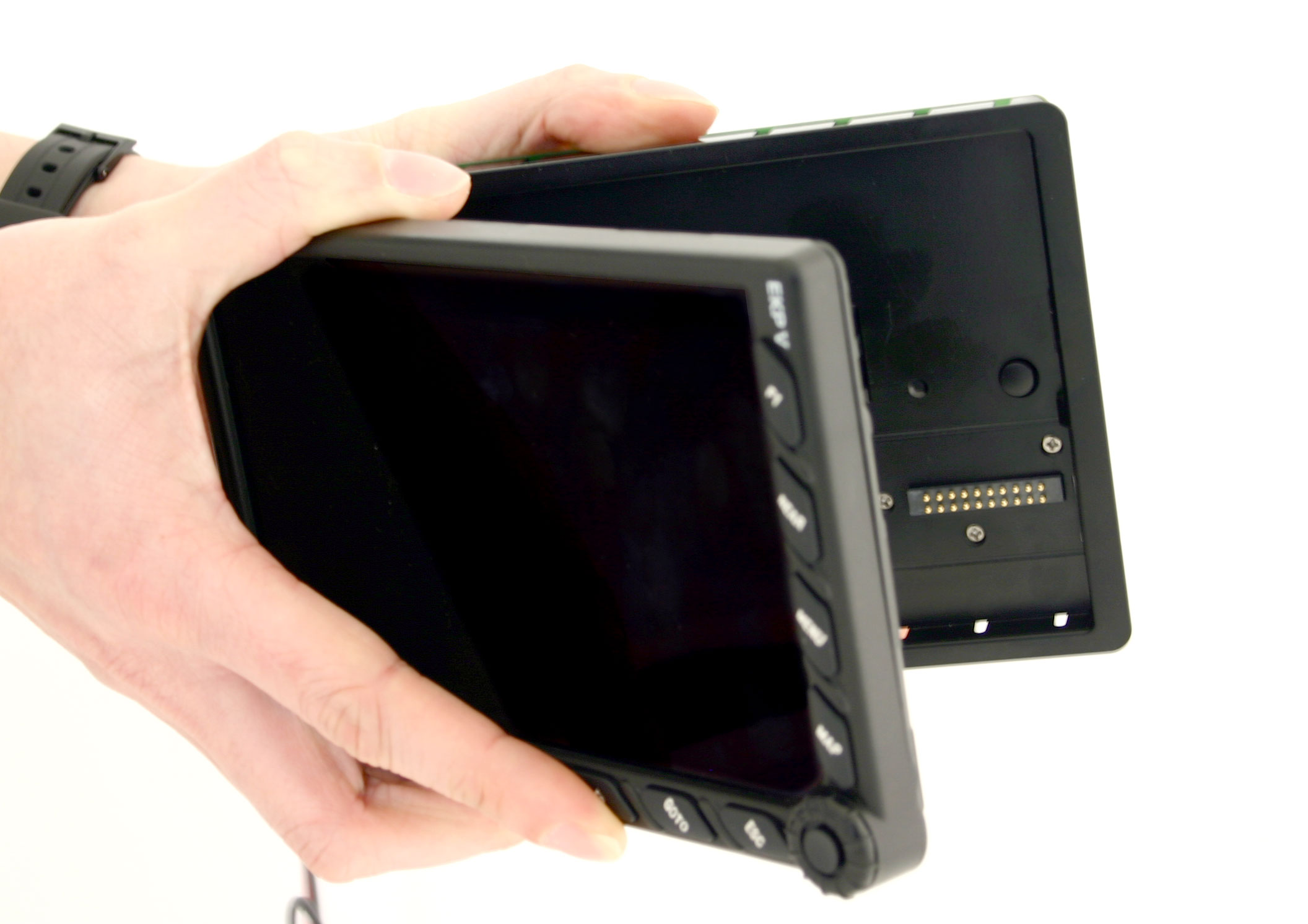 AvMap EKP V GPS – Panel mounted and portable at the same time!
Even when cockpit-installed, it is always possible to remove the EKP V from the plane to use it with the internal rechargeable battery for updates, flight planning, or training school debriefing.
You can choose between Cockpit Docking Station or Cockpit Cradle Kit
Advanced Navigation Technology
A comprehensive software, the result of 30 years of Moving Map and Navigation Technology Know-How. Navigation, Electronic Flight Bag, Primary Flight Display: all you need in a single device, developed with safety in mind.
AvMap Software provides advanced planning function, great situational awareness, and useful shortcuts in case of emergency.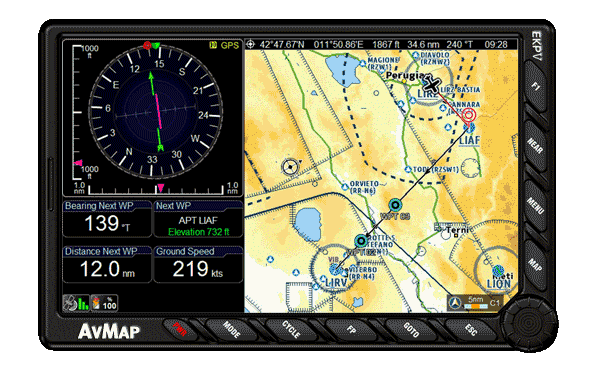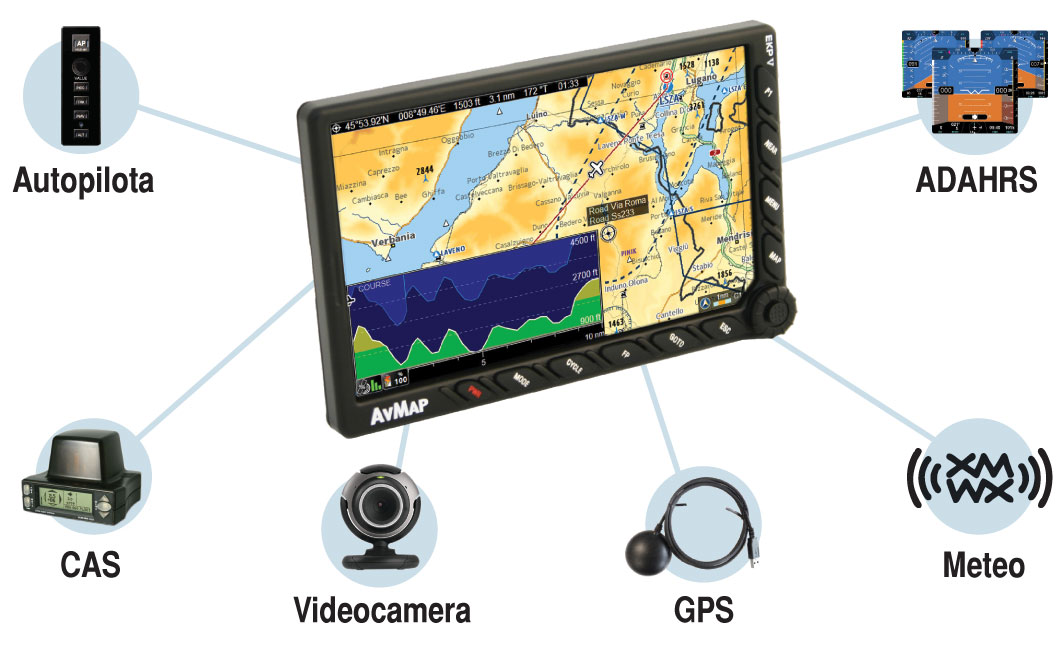 Much more than a moving map: a true Multifunctional Display!
Through the Cockpit Docking Station, the EKP V can connect to: AvMap A2 ADAHRS, autopilot, weather receiver, CAS, video camera and other instrument, to create a complete flight information system.
Get Airspeed, Altitude, Attitude and Heading on the EKP V's 7" display
When connected to the A2 ADAHRS module, the EKP V turns into a full-featured Primary Flight Display providing:
Airspeed and Altitude from Pitot-static system
Attitude, side slip and heading information
Integration of TAWS into the PFD with AGL Altitude indication
Wind indicator with wind components
Clear HSI display linked with EKP V flight planning function
Customizable data fields
PFD settings: Altimeter reference, Heading reference, Aircraft
Specific V-speed reference value.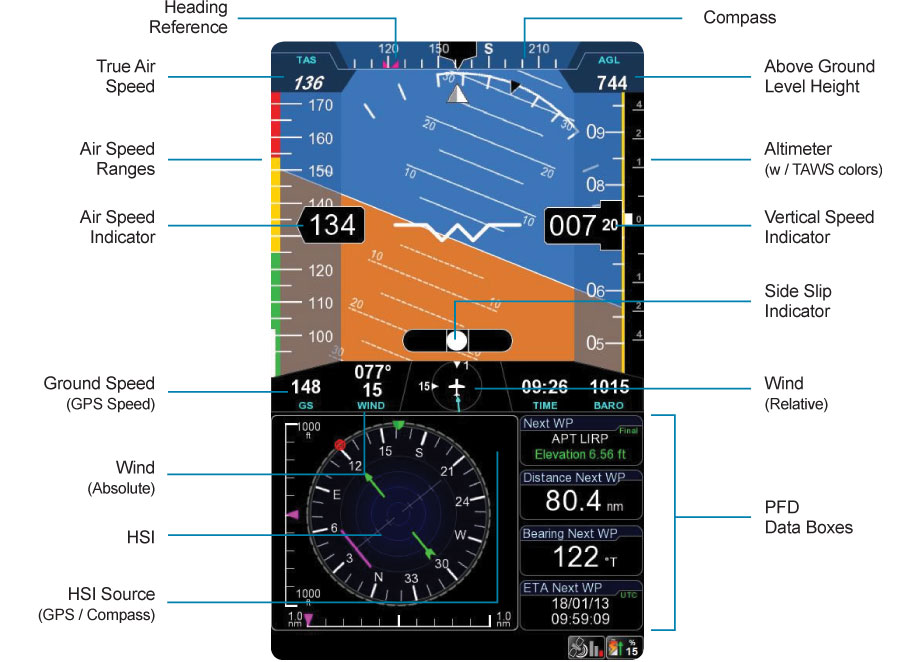 Additional information
| | |
| --- | --- |
| Weight | 0.88 lbs |
| Dimensions | 4.3 × 6.8 × 0.8 in |
| Display | 4.75 x 7 x 1.5 in (16:9) Color LCD TFT |
| Resolution | 800 x 480 pixels |
| Power supply | External 10/35 V DC with cable adapter |
| Battery | Lithium-Ion, Removable, Rechargeable |
| Consumption | Max 10 Watt |
| USB OTG | Master /Sslave |
| Operative Temperature Range: | -20°C + 60°C |
Documentation