uAvionix AV-30-C IFR Certified Package
$4,375.00
Retrofit your cockpit with uAvionix AV-30-C digital precision attitude and directional gyro customizable display that goes far beyond the single-feature gauge vacuum-driven instrument it replaces.
uAvionix AV-30-C IFR Certified Package includes:
✔

FEATURES THE LATEST FIRMWARE WITH INTERNAL MAGNETOMETER

✔

FREE SAME-DAY SHIPPING

/ FedEx & UPS Ground

✔

2 YEAR WARRANTY
uAvionix AV-30-C Electronic Flight Instrument
FAA APPROVED
Modernize your cockpit and increase situational awareness and safety. Upgrade your legacy vacuum-driven instruments to AV-30 from uAvionix.
The AV-30 is a highly capable, fully digital, multi-mode instrument that mounts in the legacy 3⅛ inch round instrument panel cutout. The AV-30-C can be configured as either an Attitude Indicator (AI) or a Direction Indicator (DG). The unit contains an internal battery and allows for a wide variety of pilot customization.
Cutting-Edge Technology Without the Cutting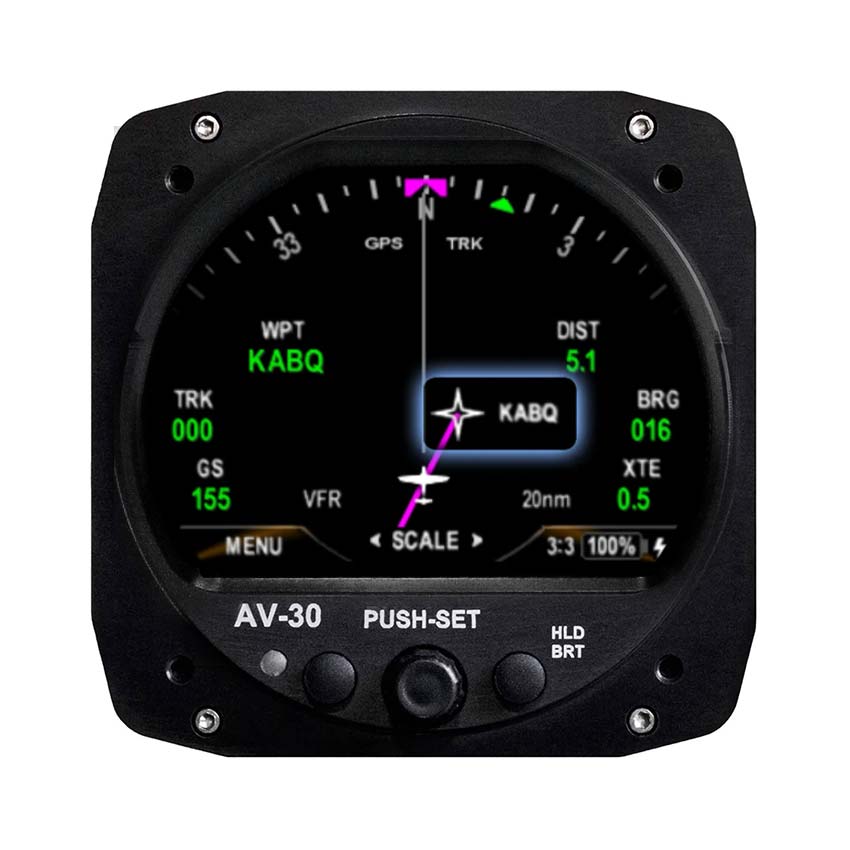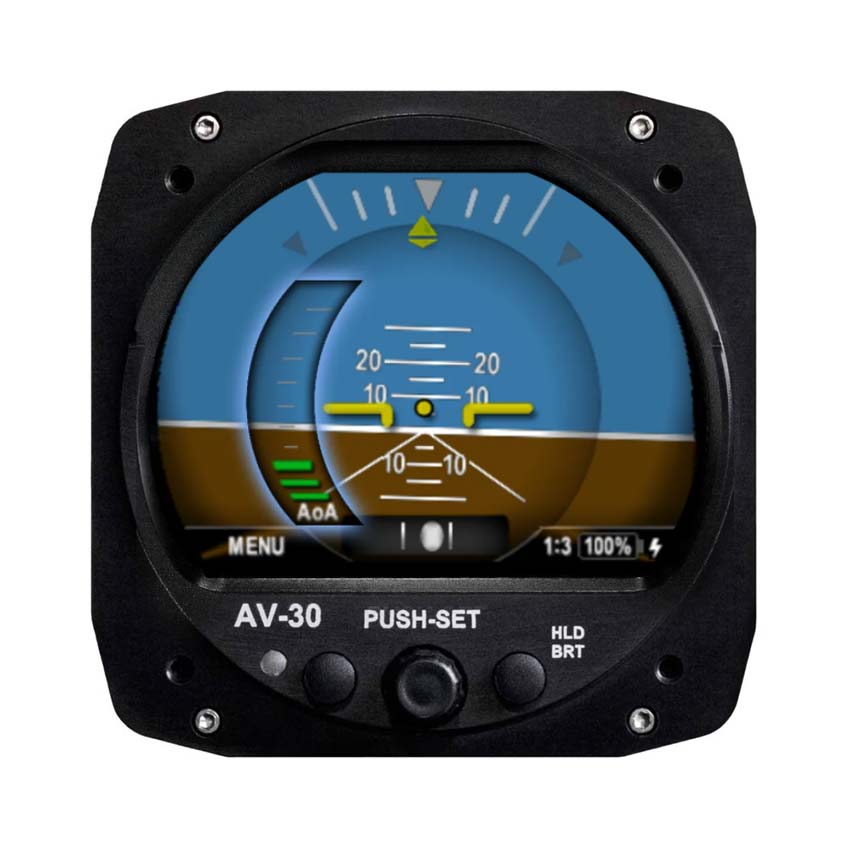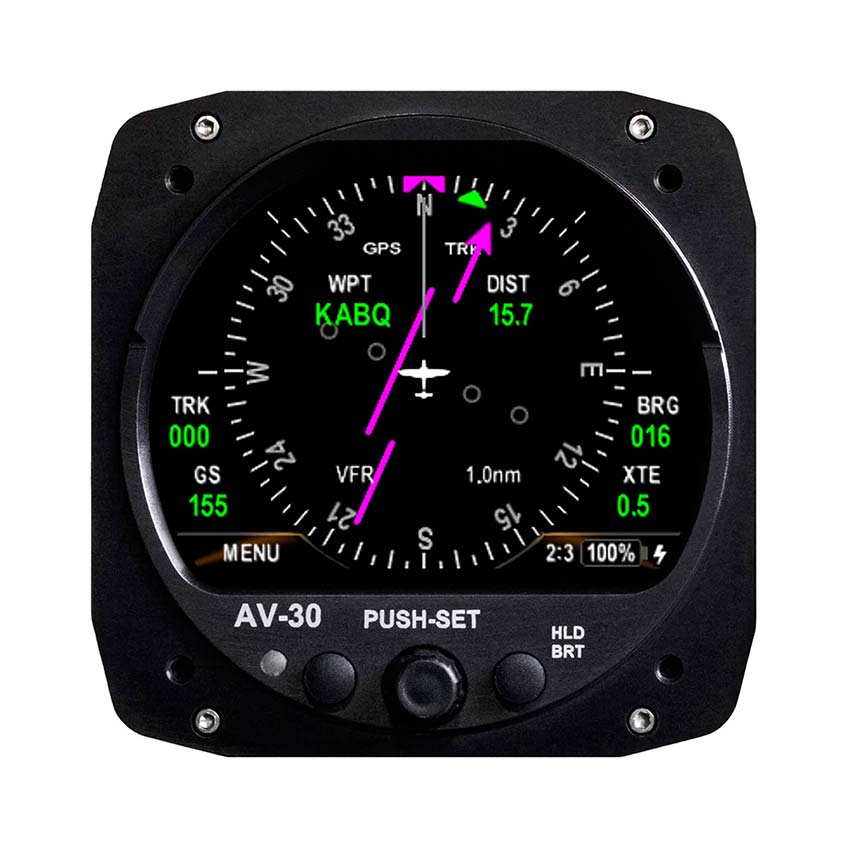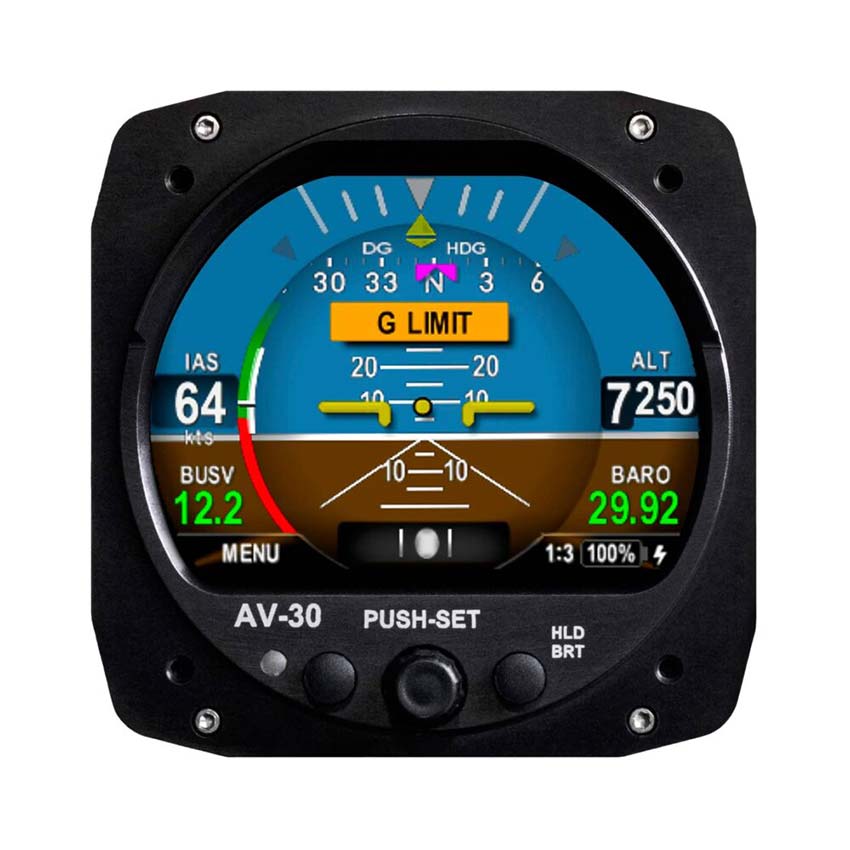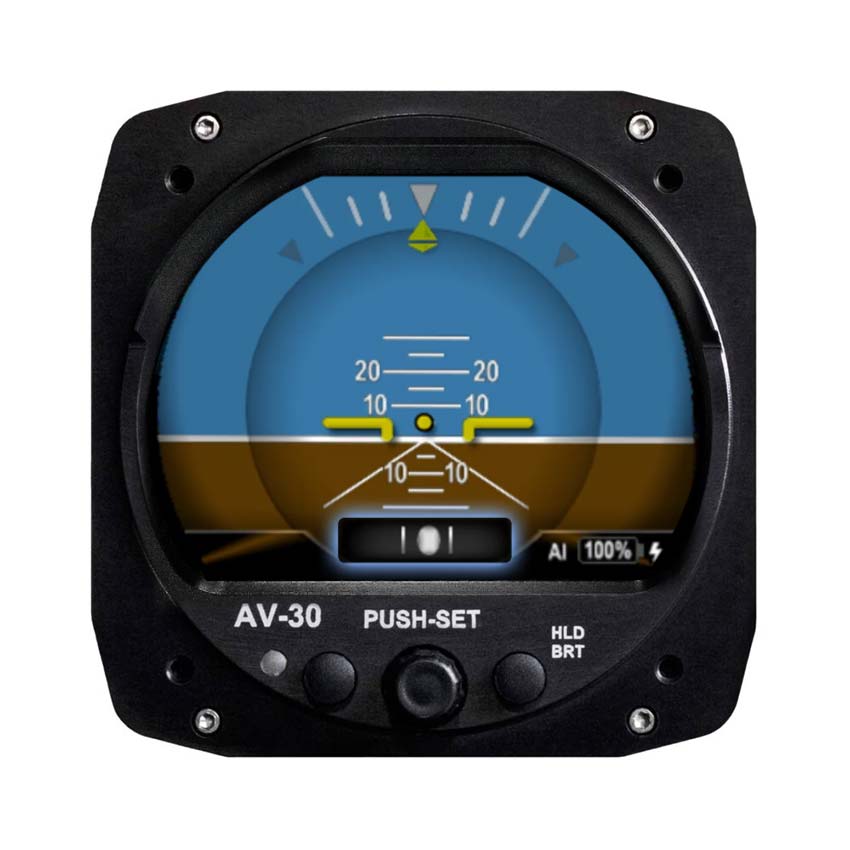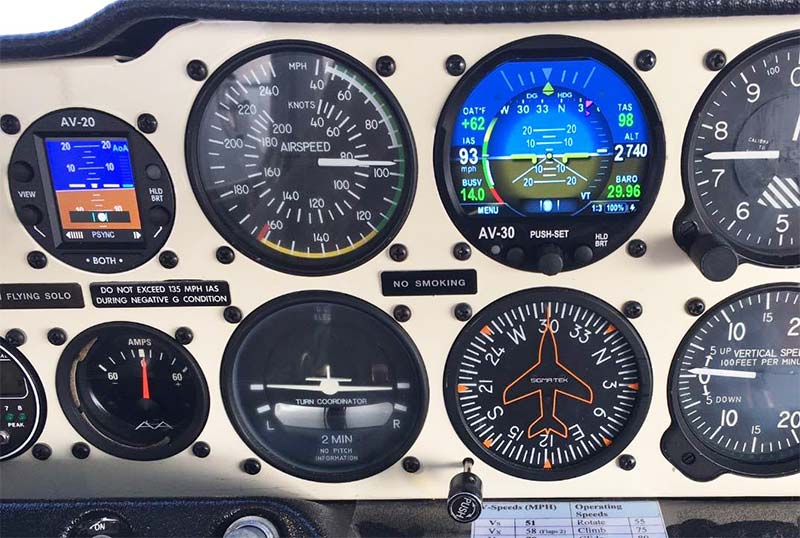 In both operating modes (AI & DG), the pilot may select from a variety of visual styles that are intended to improve visual compatibility with legacy aircraft instrumentation and preserve the look and feel of older aircraft applications. A wide variety of supplemental functions, including audio envelope alerting, derived angle of attack presentation, g-load display, and more, are provided.
uAvionix AV30 internal battery allows operation for up to 2 hours in the event of aircraft power loss, further enhancing safety.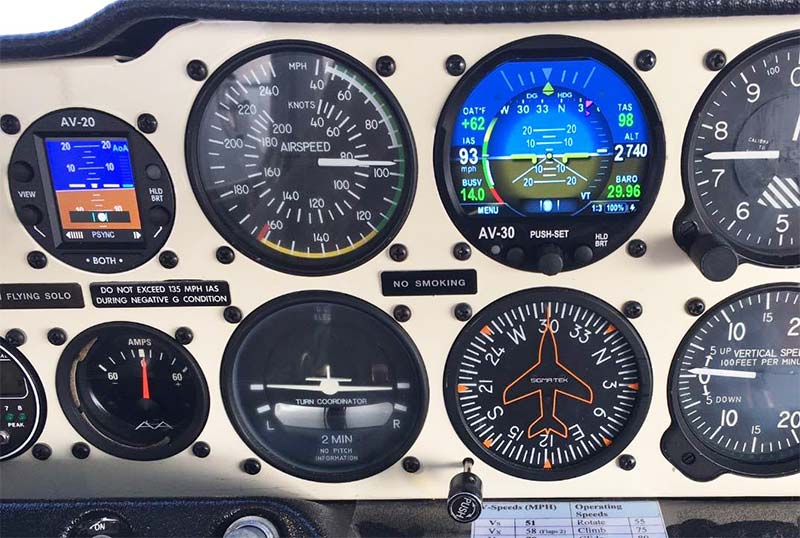 Primary Attitude
Primary Slip
Primary Direction Indication
Probeless Angle Of Attack
Indicated Airspeed (KTS/MPH)
Altitude / Vertical Trend / Alerter
+8 / -8 G-Meter
OAT / TAS / Density Altitude
Bus Voltage
GPS Navigational Data Overlay
GPS HSI / 360 Rose / Arc Map Mode
Customizable Colors, Fonts, & Layout
Audio Alerts (AoA, G, Roll Limits)
2 Hr Typical Internal Battery Operation
Primary Attitude
Primary Slip
Primary Direction Indication
Probeless Angle Of Attack
Indicated Airspeed (KTS/MPH)
Altitude / Vertical Trend / Alerter
+8 / -8 G-Meter
OAT / TAS / Density Altitude
Bus Voltage
GPS Navigational Data Overlay
GPS HSI / 360 Rose / Arc Map Mode
Customizable Colors, Fonts, & Layout
Audio Alerts (AoA, G, Roll Limits)
2 Hr Typical Internal Battery Operation
uAvionix AV-30-C IFR Certified Package Includes
2x uAvionix AV-30-C Unit
2x AV-30-C Installation Kit
2x Harness Kits (Serial connectors, case housing, pins, grounding strap, etc.)
1x Davtron C307PS OAT Probe
2x Klixon 2TC2 Series 2 Amp Circuit Breakers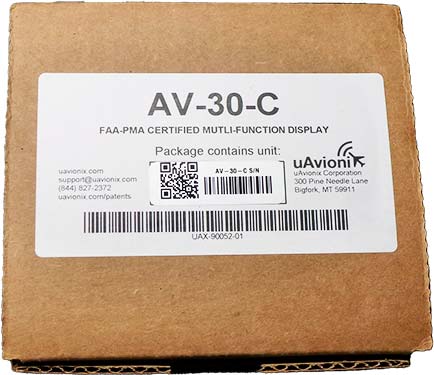 2x uAvionix AV-30-C Unit
2x AV-30-C Installation Kit
2x Harness Kits (Serial connectors, case housing, pins, grounding strap, etc.)
1x Davtron C307PS OAT Probe
2x Klixon 2TC2 Series 2 Amp Circuit Breakers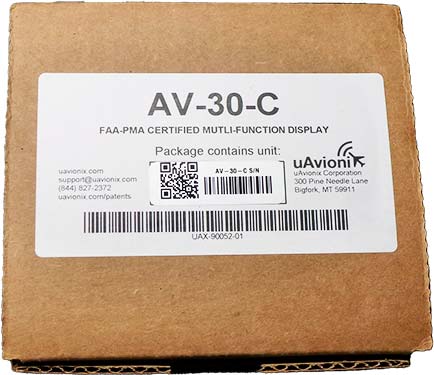 You May Be Also Interested in
Additional information
| | |
| --- | --- |
| Weight | 0.5 lbs |
| Dimensions | 3.38 × 3.38 × 1.6 in |
| Input Voltage Nominal | +10, to, +32, VDC |
| Input Voltage Max | +60, VDC |
| Input Power Nominal | 6, Watts, (0.5, Amps, @, 12VDC) |
| Input Power Max | 12, Watts, (1.0, Amps, @, 12VDC) |
| Required Circuit Breaker | 2, Amp |
| Operation on Battery | 2, Hours, Typ, @, 20°C, /, 30, Minutes, Min, @, -20C |
| Mounting Configuration | 3, 1/8", Round, Instrument, Hole |
| Electrical Connector | 15, Pin, Male, D-Sub |
| Pneumatic Connectors | 1/4, in., OD, Quick, Connect |
| Mounting | (4X), #6-32, Machine, Screws |
| Case Material | Billet, Aluminum |
| Operating Temp | -20°C, to, +55°C |
| Diagonal Size | 3", Circular |
| Contrast Ratio | (Typical), 500 |
| Brightness | (Typical), 1000, cd/m2 |
| Viewing Angle Left/Right | 60° |
| Viewing Angle Up | 45° |
| Viewing Angle Down | 10° |
| Backlight Lifetime | (Typical), 50, 000, Hrs |
Documentation