Trig TX56A NAV/COM – Complete System
$4,458.00 See Our Price in Cart
THE TX56 HAS LANDED!
IN STOCK & READY TO SHIP AT A PROMOTIONAL PRICE!
Trig TX56A NAV/COM unit provides the ideal platform to update legacy avionics or equip your new aircraft. The slimline and highly efficient TX56A model is housed within a superbly engineered case. At only 1.3" (33mm) high, each unit saves valuable space yet contains an impressive selection of practical features for any pilot.
The Nav/Com display is clear and bright, showing both primary and secondary frequencies along with airfield / VOR identifiers. A 'Push Step' knob allows the fastest change from 25 kHz to 50 kHz.
Trig TX56A NAV/COM complete set includes the TX56A unit, mounting tray, installation kit, installation, and operating manuals, and Trig USB data card.

Trig Avionics TX56A NAV/COM
Trig TX56A NAV/COM uses a bright, high-resolution display with the clearest presentation of Nav and Com information. The unit has a customizable frequency database that holds over 200 com and an additional 200 nav frequencies, loaded via an included Trig USB stick. Dual Watch allows the monitoring of two com frequencies at the same time. Monitoring of a second Nav VOR is also possible – improving navigational accuracy.

Trig's popular 'Say Again' feature is a single touch button that instantly re-plays the last received transmission, meaning you don't have to transmit 'say again'. The Nav/Com includes a two-place intercom with support for stereo music. Trig TX56A NAV/COM has a built-in digital course deviation indicator (CDI). The Nav supports VFR and IFR navigation, including ILS approaches. Trig's TI106 Course Deviation Indicator is also available as the ideal panel-mounted companion to any TX56 model.
Trig TX56A NAV/COM Features
Slimline – only 33mm high
Bright, clear display / simple user interface
Unique 'Push Step' for faster tuning
Dual Watch – monitor two com or two nav frequencies at the same time
ETSO and TSO approval (pending)
Stereo music / two-place intercom
'Say Again' feature – allows playback of the last transmission
USB port on facia – upload over 200 com and nav frequency database (CSV file)
VOR/ILS receiver – monitor the 2nd VOR
Built-in VOR/LOC converter
Built-in digital CDI
Built-in 40-channel glide slope receiver
Highly efficient – no cooling fans or external cooling required
Ideal retro-fit for legacy radios – unit is the same height as an SL30
Unbeatable quality – designed and manufactured in Scotland, UK
Two-year warranty (starts from the date of installation)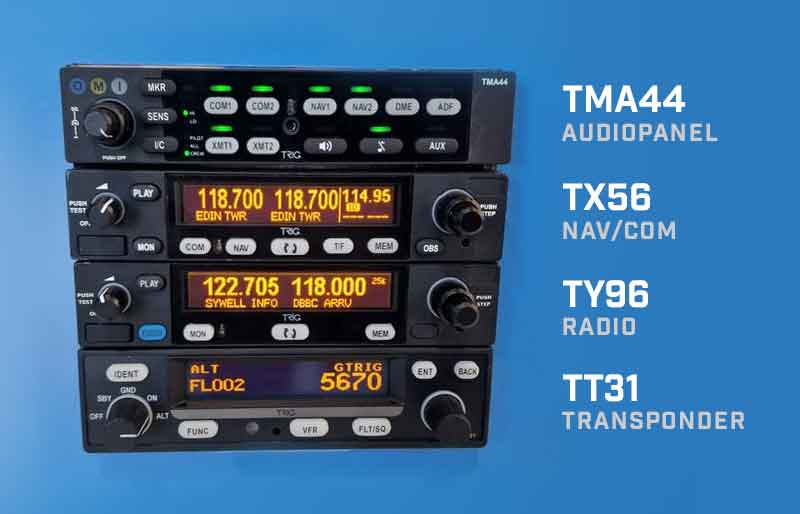 Ease of installation
The TX56A and TX57A's low-profile design requires no external cooling fans. Each unit is designed to easily replace legacy equipment, which includes popular; KX155A and SL 30 models.
Features that matter
The Trig TX56A NAV/COM features a 10-watt Comm radio suited for most general aviation use.
TX56A has an easy-to-read display showing both navigation and communication frequencies and identifiers. Maximum clarity is achieved by giving prominence to the active Nav or Com mode. The unique 'Push Step' knob allows the fastest tuning across voice channels, ensuring you can focus on flying whilst communicating.
Trig TX56 Dual Watch feature allows you to monitor two Com or Nav frequencies at the same time – it's like having a second radio. The Com functions include the ability to select the most recently memorized database frequencies or those displayed on a compatible active GPS track. The radio also features Trig's 'Say Again' technology – a single button press replays the last radio transmission. The Com also features a built-in two-place intercom with inputs for stereo music and auxiliary audio warnings.
The Nav receiver is optimized to provide stress-free operation. Trig TX56A will decode Morse, identifying VORs or ILS. The Nav receiver can monitor a second VOR, which significantly enhances route navigation. This means that a standby VOR radial can be displayed in addition to the primary VOR – allowing the pilot to calculate an accurate position fix quickly.
The unit display features a graphical CDI (course deviation indicator), which allows the pilot to navigate without an external CDI. The TX56A also provides support for various display options, using a range of external cockpit instruments. The automatic centering of the CDI needle displays a direct bearing to a selected VOR for ease of navigation, whilst the to/from button allows you to display the inbound or outbound radial.

Integration benefits
The Trig TX56A NAV/COM benefits from having a built-in VOR/LOC converter and can also support a composite output. This ensures the widest compatibility with installed indicators. The TX56A and TX57A can also tune a remote DME in addition to supporting digital EFIS and PFD indicators.
The ability to integrate the Nav/Com with a suitable GPS (Garmin protocol) allows the automatic display of frequencies along a flight route. Finally, a customizable database can be loaded via the handy USB port, this can contain over 200 of your Com and over 200 Nav frequencies and identifiers. warnings.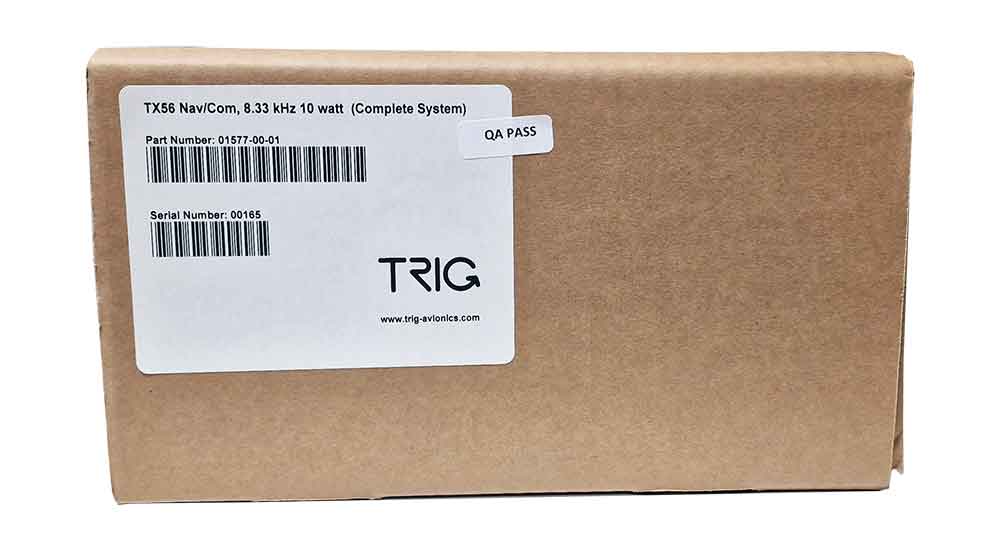 Trig TX56A NAV/COM – Complete System Includes
Trig TX56A NAV/COM Unit
Mounting Tray
Installation Kit
Trig USB Data Card
Printed Installation Manual
Printed Operating Manual
Manufacturer's Certificates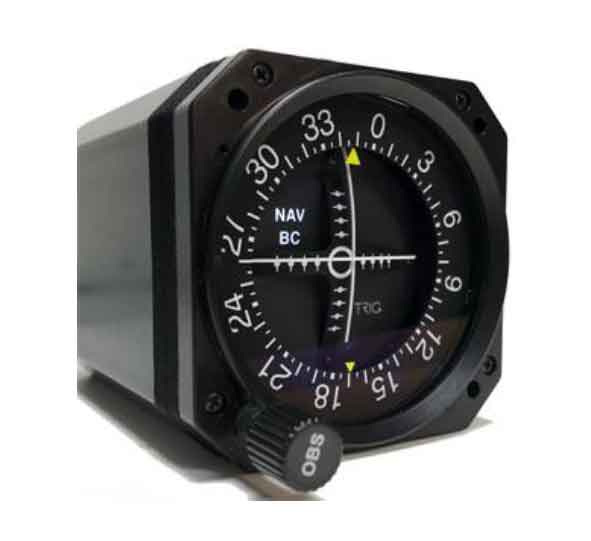 Trig TI106 CDI – Course Deviation Indicator
Trig's TI106 is a 3" Course Deviation Indicator – an ideal match to TX56A NAV/COM. Using the latest generation of indicator technology, solid state actuators provide smooth and dependable navigational indications. LED technology for flags and backlighting provides a superior display compared to older legacy indicators. The TI106 will support most existing Nav/Com equipment, making it a suitable replacement CDI across general aviation.
Trig TX56 – Frequently Asked Questions

Is the Trig stack NAV / COM a plug-and-play retro fit radio?
Trig TX56 stack Nav/Com is not a plug-and-play product. Whilst it is the same height as the SL40, it is not a drop-in replacement unit. The product offers features such as a stereo intercom and support for stereo music. To exploit these features, some re-wiring is required. However, the Nav/Com is shorter and lighter and comes with a Trig tray to make the replacement of an existing radio as practical as possible. The installation manual provides wiring information on legacy Nav/Com to help configure the installation.
How do I create my USB frequency database?
Each Trig Nav/Com is shipped with a Trig USB stick. This contains full instructions for the product in the form of the User Manual and Installation Guide – TX56/56A /TX57/57A.
The same Trig USB is used for uploading a frequency database, that you create. Each stick contains a sample database file. A PC or laptop is required with a USB port to configure and load the USB stick.
Once the USB is plugged in, open the CSV file that is saved on the memory stick. This file can be opened with either a notepad or spreadsheet application, such as Microsoft Excel. This file has a few sample frequencies already saved.
Follow the same convention and add all radio channels that you would like. The Trig USB enables you to create a unique database for yourself. You can save up to 250 frequencies on your Trig stack radio.
How do I load my database from my USB onto my TX56 NAV/COM?
Once you are happy with your database, save this to your memory stick. To load or save this to your Nav/Com, you need to put the memory stick into your radio's USB port when the unit is turned off. Only when the Nav/Com is then powered on it detects the USB stick and will offer to save or load your database.
If there are data entries already on your radio, you will be offered the choice to replace the whole database or add entries from the USB stick. Similarly, if there is already a database on the USB stick, you can either overwrite it or add the radio data to the existing file.
To return to normal Nav/Com operation, remove the USB device and switch the radio off and then turn it back on again.
In normal Nav/Com operation, the USB port is powered off.
Is there a Trig CDI?
Yes, Trig Avionics offers the TI106 CDI, which is ideally matched for the TX56/56A/57/57A.
What antenna inputs does the TX56 have?
Trig TX56 has two antenna inputs, one for the communications radio and one for the navigation radio. The navigation input is used for both VOR / localizer and glideslope. If the aircraft has separate antennas for VOR / localizer and glideslope, then a diplexer will be required to combine these.
Is TX56 Nav/Com display visible in all lighting conditions?
The LCD display is clear and crisp in all lighting, full sunlight generates a very clear contrast, and in dull or dark lighting, the inbuilt lighting ensures the unit remains clear and legible. The controller has a backlight, and manual dimming can be selected to increase or decrease brightness.
Can I use TX56 NAV/COM without a headset?
The Nav com has a built-in speaker amplifier, which supports the connection of an auxiliary speaker allowing headset-free operation. If using a dynamic microphone with a Trig radio, please note an amplified adaptor will be required.
Are Trig NAV/COM radios easy to use?
The TX56 radio interface is simple and intuitive. All controls are positive and give good feedback, and can be used with gloves on. The 'PUSH STEP' button is a unique feature and allows the fastest selection between 25 kHz and 8.33 kHz steps.
In areas where 8.33 kHz is not used, the push step function can be set to change between 25 kHz and 50 kHz steps, making frequency selection just as rapid.
How does the 'Push Step' feature affect 8.33kHz tuning?
The 8.33/25K push step does not affect the mode of the radio. You cannot turn off the 8.33 capability. The push step only changes the size of the steps when you are tuning. It is there to make tuning faster – 4 x times less turns to reach your desired frequency. For example, if you tune to an 8.33 channel, then click the push step to display the small 25k symbol – remember you are still transmitting and receiving on the 8.33 channel you selected… only the size of the tuning steps changes when you next turn the tuning knob.
Can I play music through the Trig Nav Com?
All Trig radios and Nav/Com units have the capability to play music through your headset via an auxiliary input. The TX56 and TY96 radios support stereo music.
Can I operate the TX56 NAV/COM on batteries?
Operation of the radio from a battery is a practical option given the efficiency of the radio. Your Trig radio can be relied upon for many hours when powered by battery, Trig Avionics installation guide provides guidance on the best power sources to select and the duration you should expect these to operate for.
However, the TX57 and TX57A require a supply of 22 to 33 volts and, as such, cannot be powered by a battery alone.
Additional information
Weight
2.42 lbs
Dimensions
1.3 × 6.26 × 10.63 in
Certification

ETSO 2C128, 2C169a, 2C34f, ETSO 2C36f, 2C40c
TSO-C128a, C169a, C34e, TSO-C36e, C40c

Compliance

ED-23C, ED-67, DO-186B, DO-178B Level B, DO-160G, DO-254 Level C

Supply voltage

11-33 VDC

Typical consumption

at 14V – 265 mA

Nominal Transmitter Power

10W

Operating temperature

-20°C to +55°C

Front panel dimensions

H 1.3" x W 6.26"

Cooling Requirement

No Fan Required